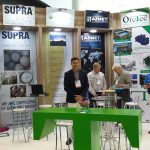 SUPRASTEEL – EXPOSIBRAM 2017
The EXPOSIBRAM 2017 has started, one of the most important trade fairs of the mining sector in South America, that will take place in Belo Horizonte (Brazil) between the 18 and 21 of September 2017. For this trade fair, which has the support of the Brazilian  Mining Congress, more than 40.000 visitors will interact with the main representatives of the sector, which are spread across the 500 stalls of the facility. Without a doubt, this event is an excellent opportunity to improve the relation among supplier, entrepreneur, as well as the general public.
For the 17º edition, SUPRASTEEL WORLDWIDE S.L. will have the pleasure to be part of the trade fair. Suprasteel's stall will be managed by Pelayo Cobos at the coordinates Y47 inside the pavilion. Where he will be pleased to answer your questions about our products.
Do not miss this chance to meet us in person, we are waiting for you!
More information about the EXPOSIBRAM 2017 at the following link:
http://exposibram.org.br/expositores2017.asp
Tags: EXPOSIBRAM, GRINDING, MILL BALLS, MILL BARS, MOLIENDA, SUPRASTEEL